Speed birding in Central Peru. Day 4. Jan 8. Junin Lake and Ticlio pass
Junin lake and Junin Grebe.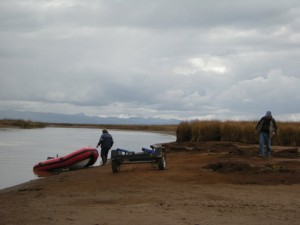 We finally allowed ourselves a sleep-in this morning, with a 5 AM start! It was freezing cold and most of us had a bit of headache in the morning due to dehydration induced by the altitude. We had an hours drive to Pari, immediately we had breakfast and looked at the surrounding birds. There were Andean Negrito, Black Siskin, Black-billed Shrike-Tyrant and Bar-winged Cinclodes present. At the edge a Guinea Pig was seen as well as a Blackish Rail briefly. Over the lake a Peregrine Falcon passed. We saw several Chilean Flamingos as well.
Not before long the park people arrived with a small zodiac and a small 15hp engine. Hmm! No way could we fit in 6 people in that. However, Lena was not feeling too well and was not going, and I sacrificed my space, so that the boat could take off with only 4 people.
About 10 grebes were seen all together, but identification was tricky. Fortunately, Andy carried his camera and we could concur that there were at least 2 individuals among Silvery Grebes.
Junin Grebe (left) and Silvery Grebe (right). Photo: Andy Kratter. Jan 8, 2009. Note the ski-slope forhead of the Junin Grebe and the round head and short bill of the SIlvery Grebe.
The Junin Grebe was one of Scott's targets. This rare flightless grebe, is critically threatened. The main threat in the past has been pollution from mining. The population seems to have been stable around 200-300 individuals in the last decades. New threats are piling up, however – and my guess is that these are not taken seriously into account. The lake is also a reservoir for the Mantaro hydroelectrical plant, which provides 40% of Peru's electric energy and 70% of the consumption in LIma. The regulation of the lake means drastic fluctuations of water levels. These changes can be very abrubt and obviously affect breeding birds. The difference in maximum and minimum water level is some 2.3 m. The effects of these fluctuations have not been studied. In light of the glacial retraction and possibly less rainfall in the Andes as result of global warming, and additionally an ever increasing demand in Lima for both water and electric energy, it is very likely that these fluctuations will be even greater in the future. It is unlikely that the Grebe will be evolutionary adapt to cope with abrubt such changes imposed in just a few decades, when it has evolved into flightlessness with very stable ecological conditions in million of years.
UPDATE: The note below from Hugo Arnal showing that it is very difficult to seperate Silvery and Junin Grebes in the field, makes any survey suspect of rather big degree of error.
To further illustrate this let's look at some picture that Andy took on the same boat trip. The guys came back a bit dissappointed that they had not seen the Grebe for certain, but there were a few individuals that were suspicious.
The picture to the right the Grebe look round headed and looking away, could easily be mistaken for a Silvery Grebe. The right picture is the same bird one second later. The long head indentifies it as a Junin Grebe.
These birds photographed over a minute apart, both look round headed. However, they are looking away as they swim away from the camera. In field conditions it could easily be accounted for a Silvery Grebe. The bill however as the photo shows is way too long for Silvery Grebe and they are both Junin Grebes.
Many other birds seen were Puna Teal, Yellow-billed Pintail, Andean Duck, Speckled Teal, Wilson´s Phalarope, Baird´s Sandpiper and Many-colored Rush-Tyrant.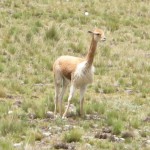 The zodiac came back quite late, so we were pushed for time to get to the airport before 6 pm.
On the way to Ticlio, we had to make a forced stop to shot pictures of some Vicuñas close to the road.  The vicuña has in recent year become a invaluable resource for poor (not so poor anymore) campesinos of the altiplano, as the state buy up wool sustainably harvested in "chacos" – traditional round-ups similar to the reindeer of the Same in Scandinavia -when the wool is shaved off from temporarily captured animals.
White-bellied Cinclodes a threatened species.
A short technical stop at Ticlio gave two endangered White-bellied Cinclodes and one White-fronted Ground-Tyrant. The Cinclodes have an extremely small population and distribution centered to glaciar-fed peat bogs above 4600m in Junin, Lima and Huancavelica departments. The habitat in many places is being destroyed by peat harvesting which is not very sustainably considering the slow rate of growth of the high altitude Distichia muscoides cushion peat.
We reached the airport in time for the groups flight to Iquitos, via a fast car-wash near LIma to make the dusty Van, somewhat less dusty.