Canopy Walkway at Reserva Amazonica
More birding at Inkaterra Reserva Amazonica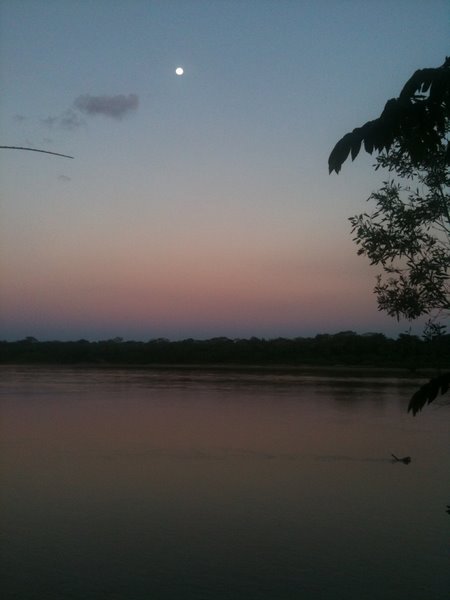 Due to my many recent trips, the continuation of the reports from our stay around my birthday in July at Inkaterra Reserva Amazonica  near Puerto Maldonado has become a bit delayed.  Here are the previous reports.
Anyway, I have looked through my photos from the trip and it brings back good memories. I believe one should be absolutely clear, so I should make it known that the whole family was invited to stay there. My task was to blog about our experience and also make suggestions to Inkaterra how to reach birders and make improvements for birders.
Inkaterra, under the direction of conservationist and visionary luxury hotels entrepreneur Jose Koechlin, has been of the forefront of making birder-friendly lodges in Peru. Machu Picchu Pueblo Hotel is of course the flagship with all the hummingbird feeders and in reality the first hotel in Peru that implemented feeders extensively to became a tourist atraction.  So while Pueblo Hotel is ever so famous among birders, the luxury lodge Reserva Amazonica near Tambopata is lesser known. Very few birders have visited there.
As mention in the first post above Inkaterra is constructing a new lodge – in the economy bracket (still probably over US$100/night with full board) at Concepcion – even closer to Maldonado (so close that there is cell phone reception!!!) that shall be ready in the beginning of 2011. This means that there are great resources available in a combined program of the two lodges. Or using one lodge and visit the other.
What makes Inkaterra different?
Luxurious treatment. There is even a spa! Sure the lodges are costly, but really not much more costly than a fancy bird tour with bird guide.
Ample material available for birders  such as checklists, bird call CD:s and plates with the most common birds – so even non birders can be introduced to the birds this way.
Eco Eco Eco. Everything is planned in detail to minimize the impact. You get a waterbottle you can fill up as often as you want. you don't have to buy loads of plastic bottles of potable water. Heck, you can even buy "organic wine" in the restaurant.
A la carte menue. Excellent choices, free fruit juices with the meals.
Ambiance music in the dining room is by Peruvian musicians. Some of these music productions have been sponsored by Inkaterra.
Ample cooperation with researchers in different fields. For instance a Flora over the plants of the reserve has been produced with Missouri Botanical Gardens and collaboration of botanists from Cuzco.
The best gift shop I have ever seen in a jungle lodge.  Bring the credit card!
Fantastic and very helpful staff
Child friendly – in spite of not specifically targeting to families, we had no problems with Luciana (three and a half year old) and Anahi (1 year old) and the staff was marvelous.
Resident guides that know birds and have equipment such as Jesus and Percy. You can therefore bring a non-birding spouse and your family.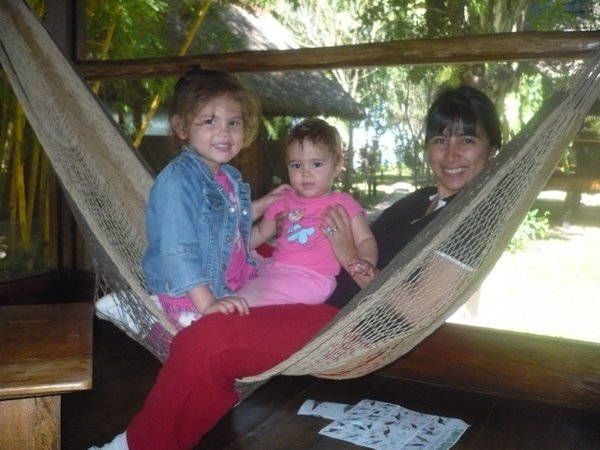 The cabins were very spacious and comfortable. The kids and Elita loved the hammock.
Birding Highlights
Canopy walkway – for the birds in the tree tops
Boardwalk into an aguajal – a palm swamp
Lago Sandoval – although the walk is long – a huge lake that has Giant Otters.
The creek at Concepcion – a very good alternative to Sandoval and much closer without a long walk.
The bamboo birding available at Concepcion and Sandoval lake.
Canopy Walkway
The canopy walkway is without doubt the best attraction at InkaTerra. Luciana and Elita loved it, while Anahi stayed with one of the girls of the lodge.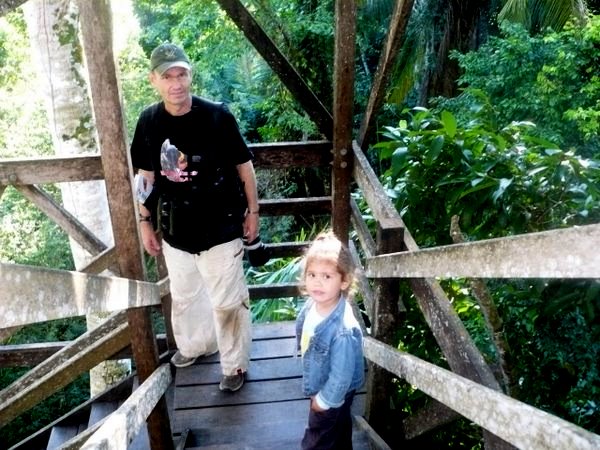 The staircase to reach the the walkway is very sturdy and safe. Luciana loved it!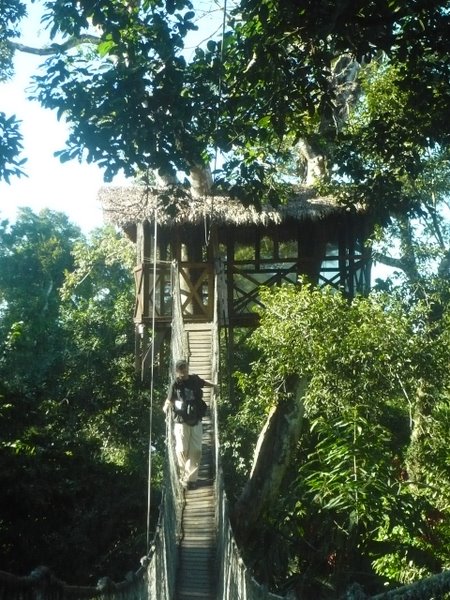 Hanging bridges in the treetops. Very well built.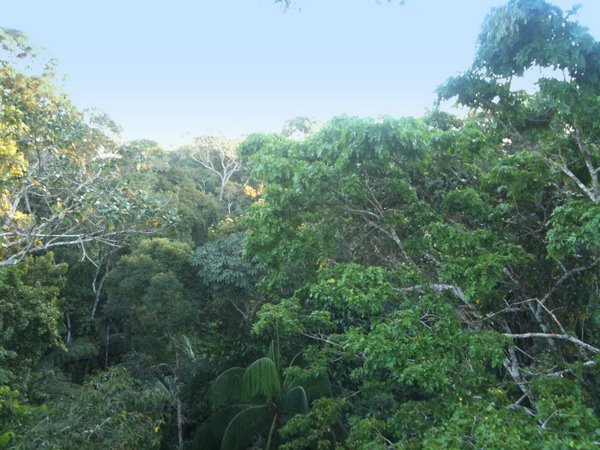 Here is a view from the highest platform (taken with my iphone) from where we watched toucans, aracaris, tanagers, woodpeckers and woodcreepers.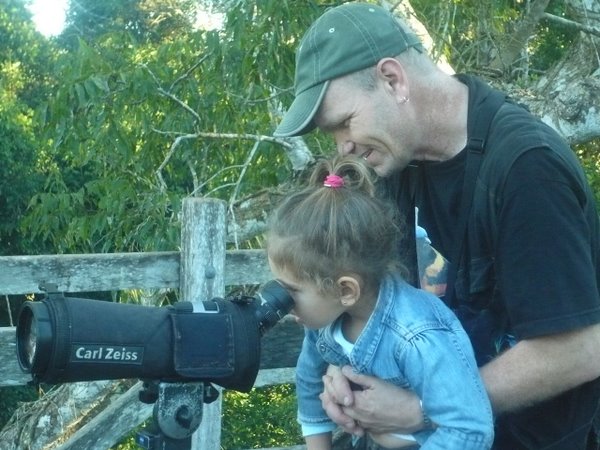 Best to bring a telescope to get good views of more distant birds.  Luciana added several birds to her increasing Peru list.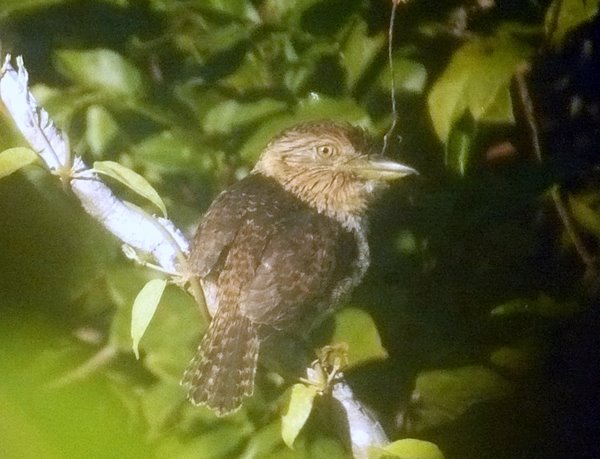 How many 3 and a half year olds do you know that have seen Striolated Puffbird? Digiscoped (with too high ISO)
Some animals found near the lodge itself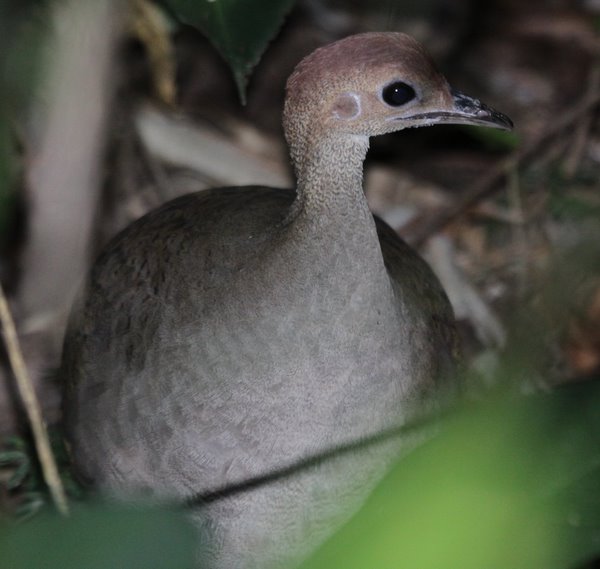 How often do you see a Tinamou? This Great Tinamou was surprisingly easy to see from a boardwak from the kitchen over a little moist area with Heliconias.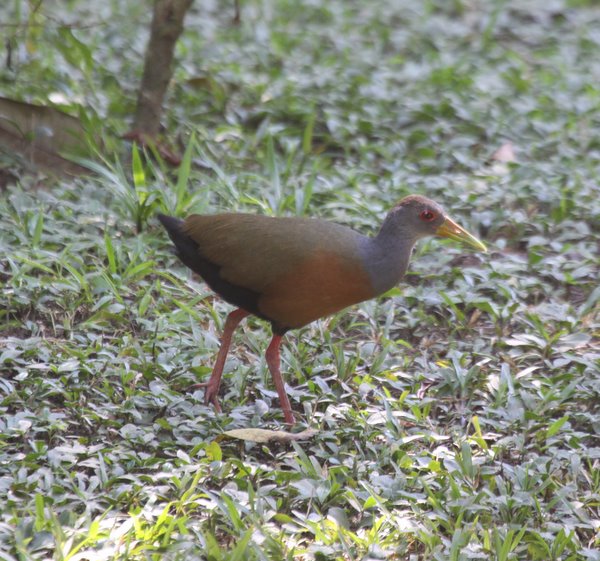 Gray-necked Wood-Rail in the clearing.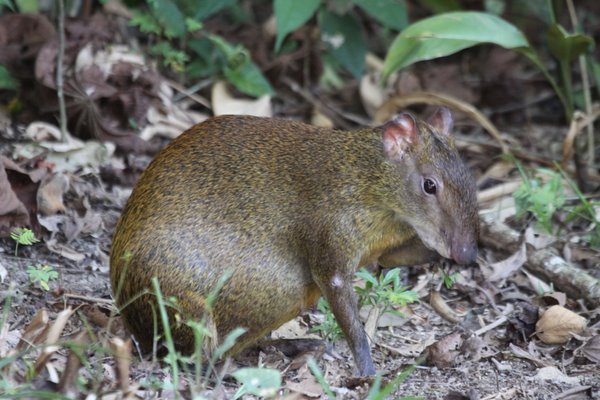 Brown Agouti in the clearing. There were several running around between the cabins.  Yes, it is a rodent!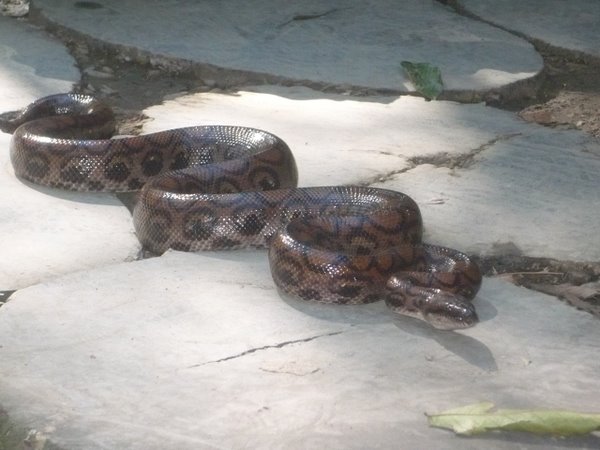 One mid-morning we were called by the staff. The had found a Rainbow Boa near the administration. Beautiful and harmless.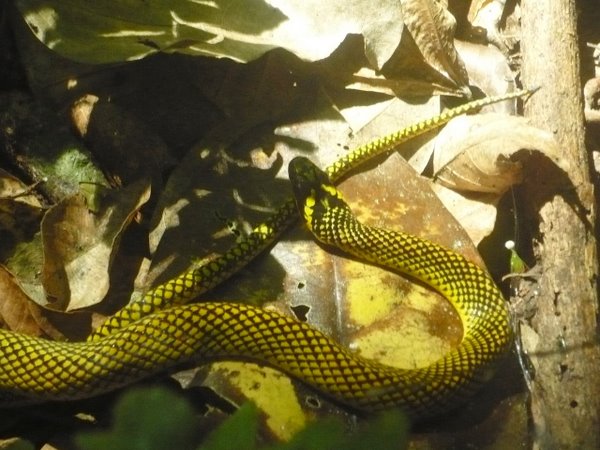 The only other snake we saw was this inoffensive Common Swampsnake Liophis reginae.
Some of the staff looking after Anahi!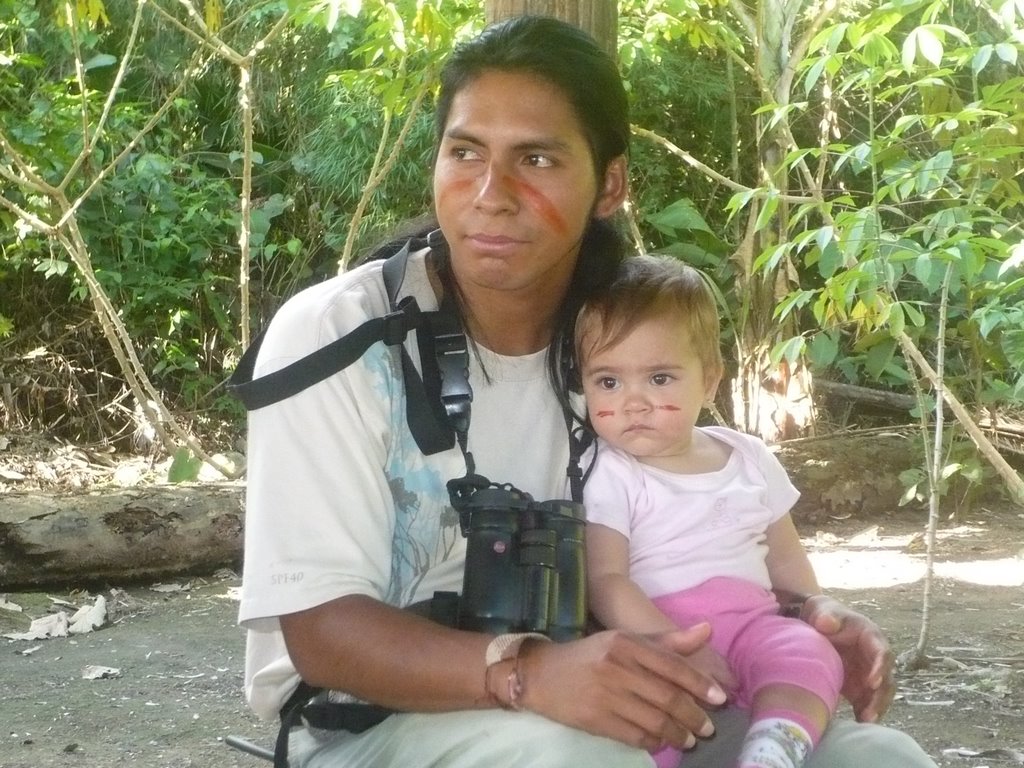 Here is our bird guide Jesus with Anahi.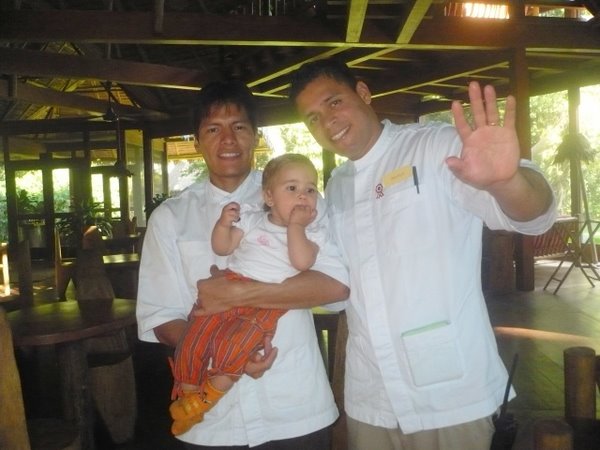 Barnman Tony – who spoke excellent English – in spite never been outside of Peru and Sherlock the waiter – who has heard Holmes mentioned in combination with his first name more than once…… Look how spacious the dining area is. Lots of room for Anahi to crawl around and explore.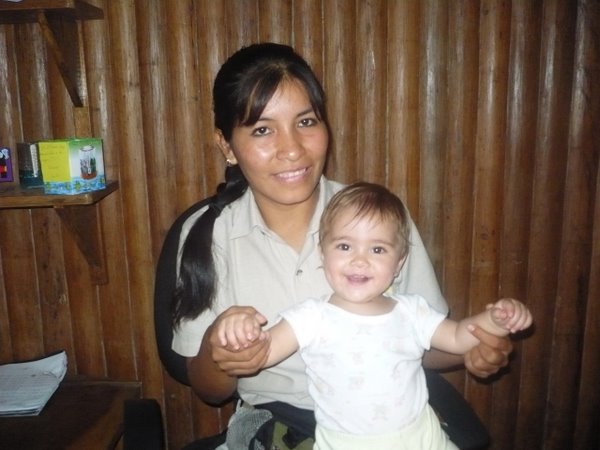 Lovely Diana met us in Puerto Maldonado. She fell in love with Anahi and took every opportunity to kidnap her for a while.
Final thoughts
Although only 19km east of Puerto Maldonado, there is a surprising abundance of birdlife. I think birders who bring their non-birding spouses will love Reserva Amazonica combined with new lodge in construction and yet yield a very good species list.  Sure, there are less large macaws compared to Manu or Tambopata, but this is out-weighed  by the extreme comfort available.