I've got Parkinson's – but I feel good. Pelagic from Tumbes
Two lifers and one Peru-tick on Tumbes pelagic.
No disease, but I knew I was going to see something good on this pelagic, as it was only the second one ever organized. The last trip organized in July 2008 has several good species that I have accounted for in a previous blog-post.
This trip was completely different. The sea was completely calm. In fact. it was quiet and birdless at times since there was no wind, but when we saw birds they were very good ones.  And we saw both Blue Whale (see picture above) and Bryde's Whales, as well as some 15 Green Turtles. And my lifers? Parkinson's Petrel and Flesh-footed Shearwater. The Sooty Tern, which I had previously seen on Tobago, was my Peru tick.
Birds included:
Black Storm-Petrel 1
Least Storm-Petrel 2
White-chinned Petrel 12
Parkinson's Petrel 80
Flesh-footed Shearwater 5
Pink-footed Shearwater 1
Blue-footed Booby 100s
Peruvian Booby 100s
Peruvian Pelican 20
Brown Pelican 30
Swallow-tailed Gull 3
Elegant Tern 3
Gull-bill Tern 1
Sooty Tern 3 (Peru-tick)
Phalarope sp.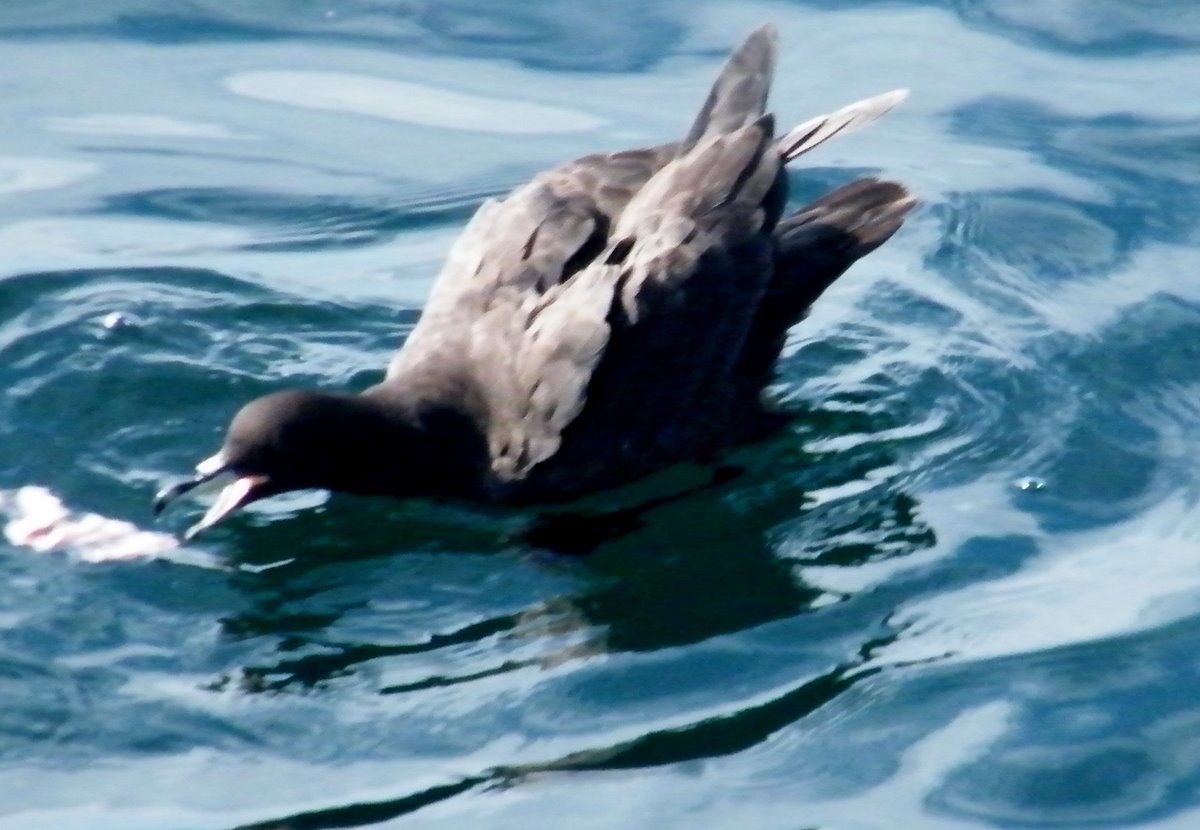 Flesh-footed Shearwater. Note slender bill. First time photographed in Peru.
Parkinson's Petrel. We saw 80 of this species. Noticing they were about the same size as Flesh-footed Shearwater but much smaller than White-chinned Petrel which was also seen on the trip.
Finally, in spite that my pictures are rather poor (taken with a cheap Fuji 15x camera), they illustrate well the differences between Flesh-footed Shearwater and Parkinson's Petrel (aka Black Petrel). But not as well as this extrordinary photo by Stever Arlow. Do visit his fine site Birders Playground and especially his photos of birds from New Zeeland.

Next pelagic organized by Kolibri Expeditions run on April 18 from Callao, Lima. The next pelagic in Tumbes is scheduled for Nov 8. More surprises then?