A Marathon for Conservation 2010
Lima Marathon and conservation.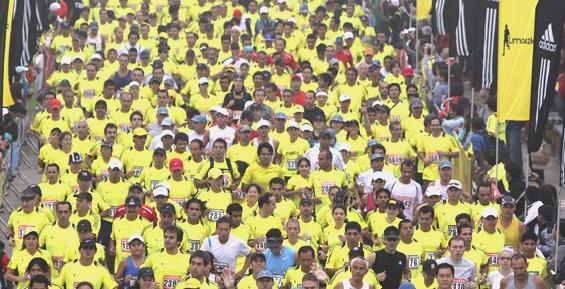 It is time again for Lima Marathon on May 2, and although training has been a challenge with a nasty virus for 2 weeks and a hurting knee practically the whole period of 11 weeks of training, I am still going to do this race. I will not do my best time and certainly not qualify for Boston Marathon, but I am still running. Because there is something at stake. Conservation in the Satipo road area.
Last year around 1000 dollars were pledged to get me around the 42km and press myself to run faster than my stipulated finish time of 4h13 minutes. One dollar for each kilometer – or a dollar for each minute i shaved off my stipulated time. I managed to finish at 3:58, a time I was very pleased with, in spite of some drawback during the race. (Check the race analysis if interested).
Here is a this year's pledge. Same as last year. Are you in?
10 dollars. I think this is a great cause, and will support you no matter what with 10 bucks.
1 dollar/min shaved off from 4:13.  You can do it Gunnar! For every minute faster you run I will donate one dollar more. Have this in your head at all times!
42 dollars. That's one dollar per kilometer. You are crazy Gunnar, but you have my support for each kilometer you run.
I'm in.
Within very short time, we got several people signing up to support Satipo raod again. And to help me make it all the way around.
1. Brian Allen, Michigan
2. Joe Church, Pennsylvania
3. Chris Drysdale. British Columbia, Canada. Of course I want to support the region that will play host to the November 22nd trip: $50 if you go under 4.13; $100 if you beat last year's time.
4. You.
Make your pledge below in the comment section.  If you want me to link to your web-page or blog, I will do so above.
Why Satipo road?
I have had my eyes of this area since 2000 when I did my first trip to region. Birding is outstanding. Many endemic species, new species to science some of which are not described yet, and amazing cloud forest from top to bottom – much like more famous Manu road. Countless meetings with the local communities along the road over the years, finally in 2008 led to a trip to Mindo (Ecuador), to which I invited 3 community members (selected by the community) and 3 community members from the Carpish area in Central Peru where we also similarly connect with the communities.
The Ecuador trip was a great success, which has created awareness, not only among the participants, but also among the people locally, as I filmed the whole trip and gave each community a copy of the video. (Thanks goes to Fernando Valdivia for help with editing and Alan La Rue for down-size and YouTube format).   I am uploading to YouTube as I write this (not being a very avid YouTube uploader – Man is this slow!!!) and will let you know how to find the videos in due time.
First part with the arrival to Mindo and the visit to the Butterfly house ican be seen below.
Here is the second part involving River rafting and Orchid Garden in Mindo.
The third part is a must-see for all birders. The filming is staged at Angel Paz's private reserve, where Giant Antpitta (named Maria) is being hand-fed at a few meters of astonished birdwatchers. This visit had tremendous impact on the guests from Peru.

Support Satipo road community eco-project.
Our effort involving local communities eventually reached Niyanta Spelman of Rainforest Partnership (with thanks to Charles Hesse for establishing this contact) resulting in a visit by Niyanta and Maurine Winkley to Mariposa and Apaya in Pampa Hermosa district.
RainForest Partnership have set up a donor page for the project in order to improve the infrastructure to receive birding tour groups. This is only the first step.  We have actively promoted Satipo road for 2010 in our sensational bird tour give away. In fact there is a tour their right now hosted by Brian Allen.
Here are the upcoming tours with the corresponding hosts.
Jul 6: Alan McBride, Australia
Sep 25: Chris West, Wisconsin
Oct 19: Joel Brady-Power, Washington
Nov 22: Chris Drysdale, BC
Dec 12: Kimberly Sucy, New York.
Soon RainForest Partnership will stage a continuation of the first activities, which involve forming a legally recognised protected areas in this region.  You can help, by making a pledge to support my Marathon or take part in the birding trips to the area.