First day in Sao Paolo birding. Get a field guide!
New field guide to the Birds of Brazil by Tomas Sigrist
Arrived to Sao Paolo and met up with client Millie Billota and Brazilian Bird festival AVISTAR organizer Guto Carvalho. When in Brazil and you intend to go birding, the first thing you should do is to get a field guide, that can be very hard to get in the US or in Europe. The past field guides have lacked seriously in artistic talant, so a good field guiid was definetely very desirable.
It is pleasing to learn that the first field guide of Brazil is made by Brazilians. Guto was kind enough to take us to the editor Avis Brasilis in Vinhedo- friends of his a big supporters of the Avistar event.
Here are some sample picture. I shall update this blog post tomorrow, but I need to go to bed now. More birding tomorrow.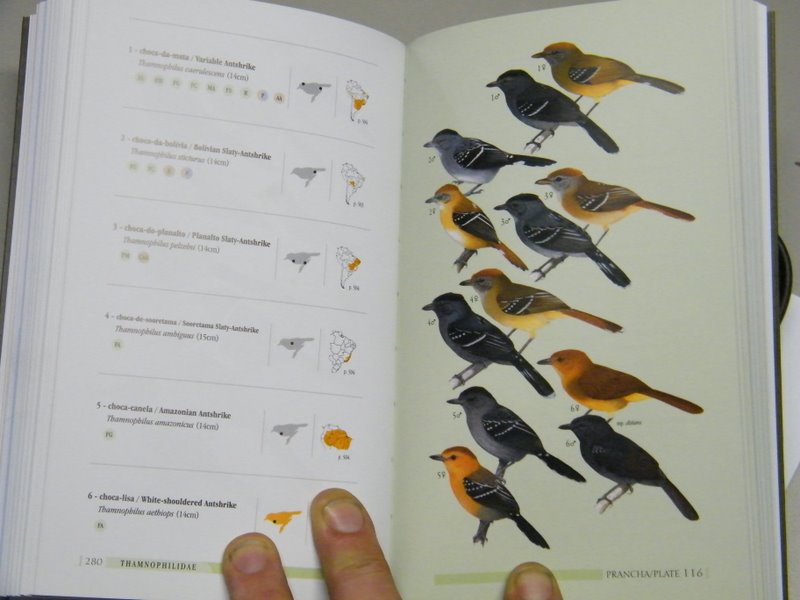 All birds in Brazil are split up in two volumes. One for the East part of the country, which includes the SE where we are birding now-and another volume for the Amazon part of Brazil. This is a smart move – to make the book more field friendly, becauase the book is really made to be used in the field. Instead of long facing text it shows maps, location of field marks on the bird indicated with dots, and codes for habitat and of course English, Portuguese and Scientific name.
There is also a larger coffee table book that combines these two volumes into one and with more complete text over the biology of the birds.
The book can be ordered on-line at the following web-page (only portuguese):
https://www.avisbrasilis.com.br/lojavirtual/
Should you run into any problems making orders let me know and I will contact the editor owners.
It is a great achievement: Tomas Sigrist has made ornithological history by putting together this fine work. The editors done a very good job. Next project for the young editor house is the printing of high quality posters on linen and on paper.