The Birdchaser: Evolution of the Bird Photo Field Guide.
Are photographic field guides really useful in the field?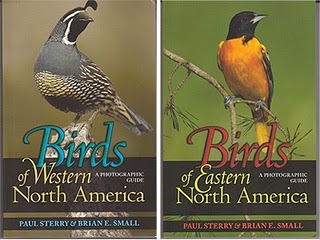 Rob Fergus has a great (critical) review of a new Photographic Guide to the birds of  North America. Here is an excerpt:
A couple years ago I charted the rise of the bird photo field guide. Since then, several new photo field guides have come out, including the Stokes guide that is out this month, and the photographic field guides of Paul Sterry and Brian Small that came out last year. And everyone is waiting to see Richard Crossley's field guide scheduled to come out next year.

In this review I want to focus on the Sterry & Small guides to emphasize what I think are the biggest problems with photo field guides. But first some things things that stand out about these twin Eastern and Western guides……READ MORE….
via The Birdchaser: Evolution of the Bird Photo Field Guide, Take 2.
Then follows a discussion comparing this photographic guide with the second edition of Svensson, Mullarney and Zetterström Birds of Europe
(affiliate link) – by most accounts claimed to be the best field guide ever produced.  While, the comparison is a bit unfair because the standards of the Europe guide is just of a totally different level, it still points out the main reasons why photographic guides never can replace good paintings. In the best cases they can be good compliments.