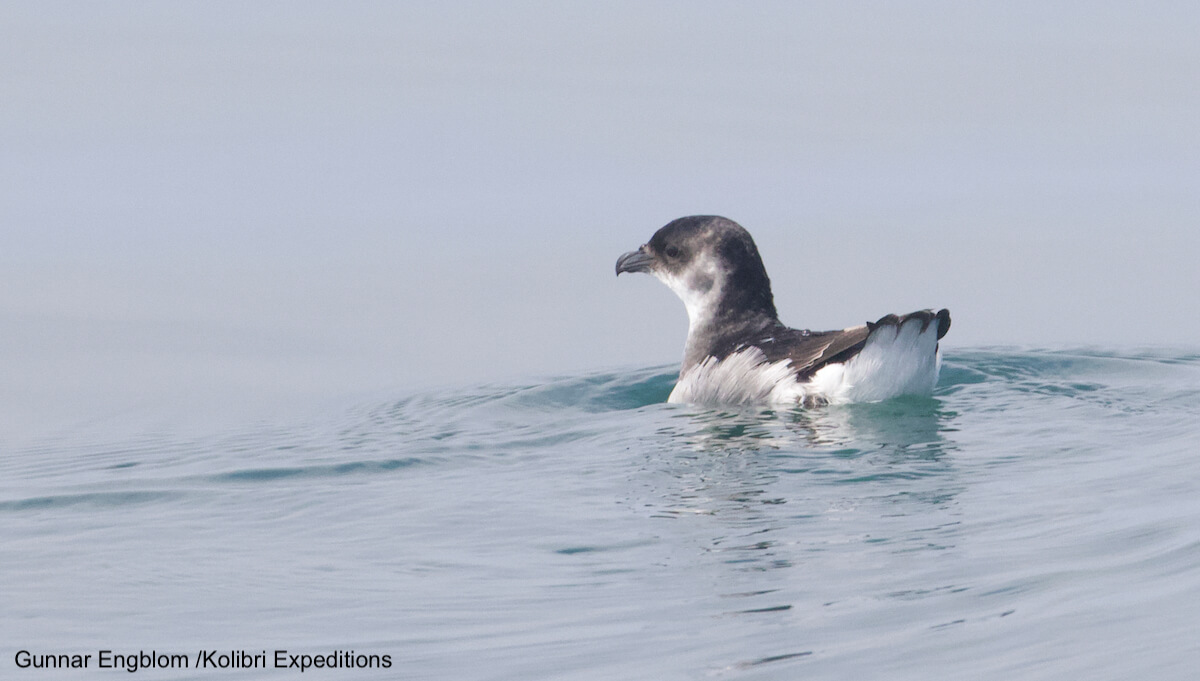 Kolibri Expeditions pioneered pelagic birding in Peru when we started offering whale-watching and pelagics from Lima in 1999. To reach deep pelagic waters and the upwelling we had to reach 34 nautical miles. That is a bit too far with the type of double engined open speed-boats we contracted. In late 2017 the port authorities in Callao clanked down on the owners of the boats, telling them they would get hefty fines should they go this far.
We tried running a few pelagics from Paracas some 270 km to the south, where there are plenty of boats that visit the nearby Ballestas islands to show sea lions and penguins to visiting tourists. The results were mixed. We never got out to deeper waters. The 1000m mark is at 45 nautical miles, and we typically only did 25-30 nautical miles.
We still saw some good birds, but the specialties Hornby's and Markham's Storm-Petrels were remarkably absent. On top of that, the strong winds, which start already 8.30-10 AM, often had us return to the coast ahead of time. Additionally, the price for leasing the boats was so high that we had to charge clients $300/person and we needed 7 people to run the trips.
Pelagics again in Peru
In 2018, I visited Kaikoura, New Zealand, and did a pelagic from there. I was alone on a vast ship paying a mere US$200. The shelf's 1000m depth mark is only some seven nautical miles out here. It meant they could operate with far smaller groups in less time (my trip lasted 2 hours) and with less fuel.
The albatrosses and Cape Petrels at close range blew my socks off.
It dawned upon me that I needed a place in Peru where the continental shelf came closest to land. That place is just south of Nazca – the location of the famous Nazca Lines – and the port of Punta Lomas. Much better. Not as good as Kaikoura, but only 12 nautical miles to the 1000 meter mark.
I had already done several fishing boat pelagics from here always with very good results, and recommended the port to Jacob Drucker in order to organize an inexpensive pelagic on which they recorded the first Peruvian confirmed record of Kermadec Petrel, plus southern range extensions of Galapagos and Cook's Petrel. Check Jacob's trip report to get a feel for the potential of pelagic birding from this port.
Almost every time I have gone out from this port I have seen Hornby's Storm-Petrel.
However, the problem here is that there are no suitable boats for tourism —only the very slow and very uncomfortable fishing boats which are not suitable for regular tourists.
Solution?
Our own Paracas-type open speed-boat with two outboard engines. A quite large investment. How should I pull it off?
During the COVID pandemic, without the usual birding programs occupying me 24/7, there has been more time to think and to come up with ideas.  The more I think about operating a boat at Punta Lomas, the more I believe it is a very solid project.
Kolibri Expeditions Pelagic and whale watching project – market feasibility.
I calculate that we could run around 20 pelagic birding departures per year during the first years. The best time for pelagic birds is between April and mid-December, when water temperatures are cold and rich with nutrients resulting in high bio-production. Of course, this is not enough to make this a profitable enterprise. If we were only to do deep-sea pelagics for birders, this project would not be viable
This is where whale-watching and observation of general marine life, such as dolphins, sea-lions and fur seals, penguins, comes in. At Paracas, some 250 km north of Nazca, some 250 000 people visit Ballestas Islands for marine wildlife. Additionally, 143 000 people flew over the Nazca Lines in 2018. These numbers show there is certainly already an existing market if we were to offer a program similar to that of Paracas.
Since the continental shelf is so narrow here, it will likely be easy to spot the whales, as they usually migrate on the shelf or right at the edge. Even if there are no whales around, the marine wildlife is captivating. You are next to certain to see Waved Albatross, Humboldt Penguin, an incredible number of Guanay Cormorants, South American Sea Lion, South American Fur Seal, and various dolphin species.
Anyone having this experience would find that a trip to Paracas would be superfluous.
Let's assume 2-5% of Nazca visitors are prone to join for whale-watching if offered. Around 3 000-7.000 people. The price for marine-life and whale-watching would be roughly $50/person initially. Thus between $150 000-350 000/year in sales only from the regular Nazca visitors. Additionally, many Peruvians would be interested in only the whale watching and not necessarily fly over Nazca lines.
Someone short of time could consider this plan using just one day for pelagic birding, whale-watching, and some general Nazca tourism. It seems like the perfect backpacker solution.
Take a comfortable sleeper night bus from Lima.
Do a pelagic/whale-watching first thing in the morning.
Fly over the Nazca Lines in the afternoon,
Get additional birds of the Nazca desert.
Take a sleeper night bus on to Cusco or Arequipa or back to Lima.
There are plans for a commercial domestic airport in Nazca with direct flights from Cuzco and Lima. This would surely double-triple the stream of people coming to see the Nazca Lines.
Researchers at the nearby bird colony reserve at Punta San Juan, Marcona, often spot whales, mostly Humpback Whales, from shore between November and March, with peaks in the first and the last months. December to March is also the warm season with calm seas and national school holidays, making it a coastal resource attractive for the domestic market.
In comparison, the well-known whale watching company Pacifico Adventures in Los Organos in northern Peru started its operations 15 years ago with just one boat. Today they have four vessels. Their season is from mid-July to September. Only two and a half months, while our primary season would be five months, also corresponding with school summer holidays in most of Peru. They likely do two trips or more per day, moving 100-150 people daily in their boats during their peak season. There seems to be great potential for growth in the short term if we were to undertake this project.
How to raise the money?
A new boat and engines would set us back with at least US$70 000. There could well be good second-hand options available for purchase in Paracas, as a consequence of the tourism crises in the wake of the pandemic, perhaps just $45-50 000 would have us operating. 
Compared with the annual calculated sales per year, it seems like this is a no-brainer that the idea should work and that it would become very successful and profitable very fast.
There is only one problem.
You guessed it!
I don't have that money!
We need partners, and we need to do a lot of fundraising.
Partners
The idea is to form an entirely new company of which Kolibri Expeditions would be the major shareholder. The new company would be anchored with people connected to Marcona and Punta Lomas as shareholders.
I have connected with the former head of the Punta San Juan reserve at Marcona, which protects Peru's largest Humboldt Penguin colony and also oversees the harvesting of guano from the huge Guanay Cormorant colony.
I am also online friends for many years with several cetacean experts in Peru who could be potential partners to carry out continuous research. They have shown interest in investing in the project.
Recently, I talked with the former head of both Port Authorities in Marcona and Punta Lomas. He gave me a lot of ideas and is also interested in being part of the project.
Additionally, I know a few local fishermen who have taken us out in the past, who would be, if not investors, staff to take care of and operate the boat(s).
Another option is to liaise with an existing tour operator in the area.
Fundraising – Win-Win
The money part we would have to come up with from Kolibri Expeditions remains. How can we get $35-40.000 to get started?
Apart from the nowadays ubiquitous Kickstarter and GoFundMe which I shall be setting up in the coming week or so, I am also turning to our clients on our mailing lists. If you are considering a trip with Kolibri Expeditions or 7 Wonders Birding in the coming three years there is a special offer for you in my previous blog post. Check it out!
If you are considering visiting Peru soon, you could help directly. It would be of great help if you would pre-book a 3-4h pelagic tour with chumming for $185/person, which we would run with a minimum of three passengers. We are taking pelagic reservations from September 2021 onwards. We can naturally also set you up for birding elsewhere in Peru, even independently renting-a-car-with-a-driver solutions. Shoot me an email to kolibriexp@gmail.com if you have questions about our pelagic/whale watching operations or birding/bird photography in Peru.