YOU NEED A BIRDWATCHING HOLIDAY!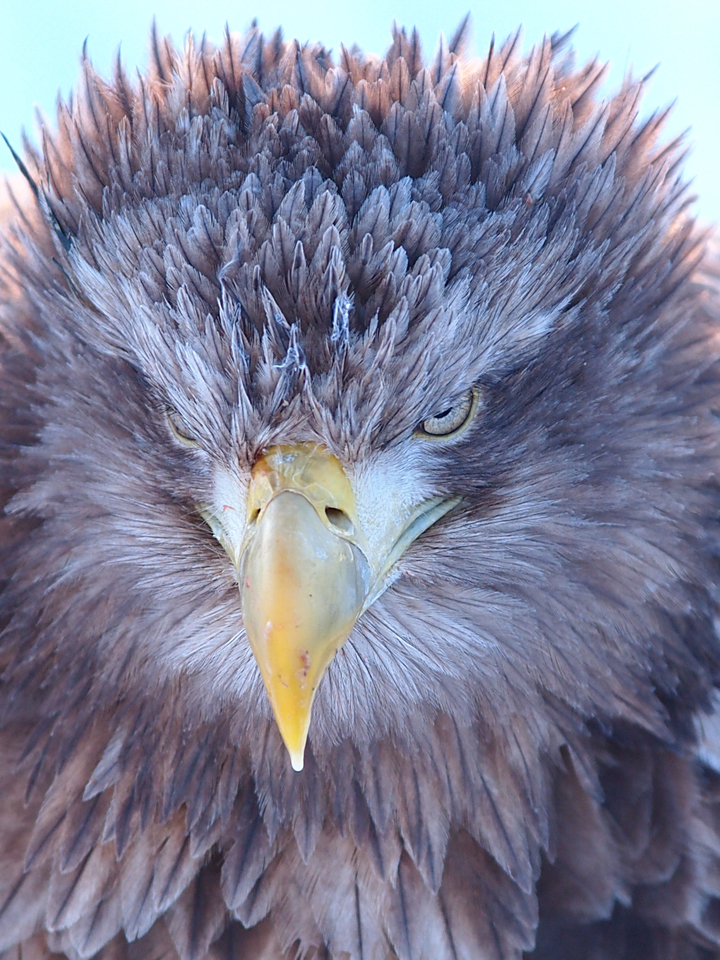 I know what you think! You don't have time for long overseas birding holidays! Yet, this time of year, when it is still too long to spring, the dark gloomy days in the northern hemisphere are suffocating. You certainly wish you were somewhere else.
So you think, why not take a birdwatching trip somewhere to get your spirits up? You know you always get in a great mood when you are out enjoying nature. Maybe there is somewhere you can go by just taking 5 days off from work? You'd still save some holiday for the summer and you certainly deserve and need to recharge your batteries by having some quality time enjoying nature RIGHT NOW!
Let me present a destination for you that is at its prime right now.
Birding Hokkaido, Japan!
Yes, it is still winter and cold, but you know there have been some great birding experiences for you also during winter. You fondly remember your encounters with Snowy Owls, Hawk Owls, Great Gray Owls, Glaucous and White-winged Gulls, or perhaps you even been lucky twitching an Ivory Gull. Even occasional flocks of Waxwings, Crossbills or Redpolls get you in a good mood. So some winter birding can actually be what you need, as long as there is tremendous quality. Hokkaido, Japan is the answer to your prayers. My Taiwanese bird photography client ChunHsien Huang has allowed me to use these images to lure you to take a trip to Japan.
Birding Hokkaido can easily be done in just three-four days, so allowing some time for travel as well as some time in Tokyo, to get into the time zone. Thus, it is perfectly feasible for anyone in Europe or North America to make the trip with just five days off from work. Start traveling on a Saturday from your native country, arrive to Tokyo on the Sunday. Take it easy, and then start birding Monday to Friday. Do some sightseeing in Tokyo the following Saturday and you fly back to your native country on the Sunday. A perfect plan.
Steller's Eagle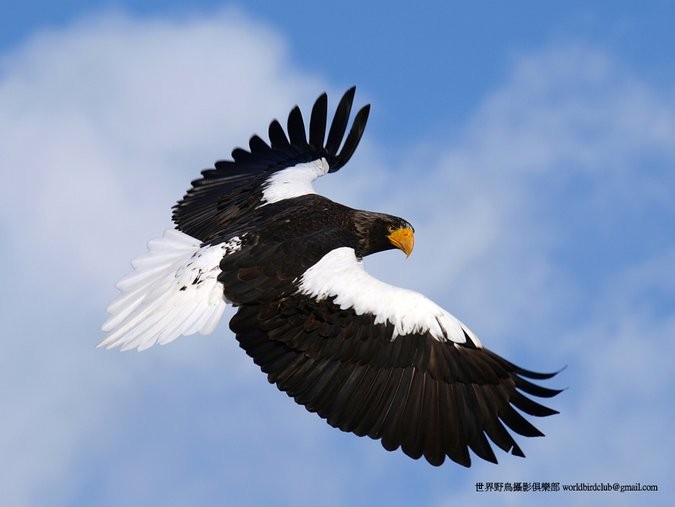 You'll see one of the biggest Eagle's of the World. Steller's Eagle. Not one, but dozens! Together with numerous White-tailed Eagle. This is just unreal. One White-tailed Eagle or a Bald Eagle usually gets your pulse moving. Think about the euphoria you will experience here.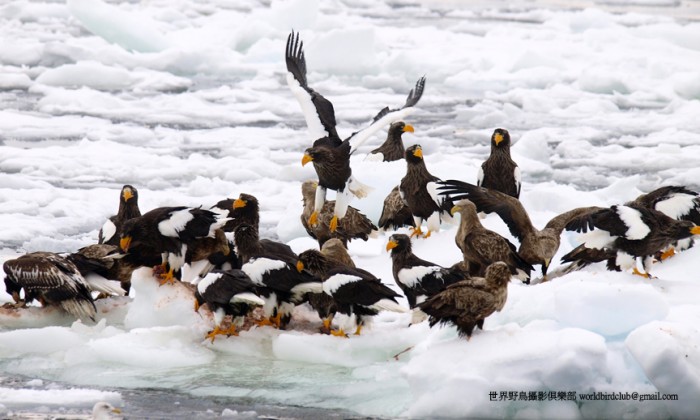 Blakiston's Fish-Owl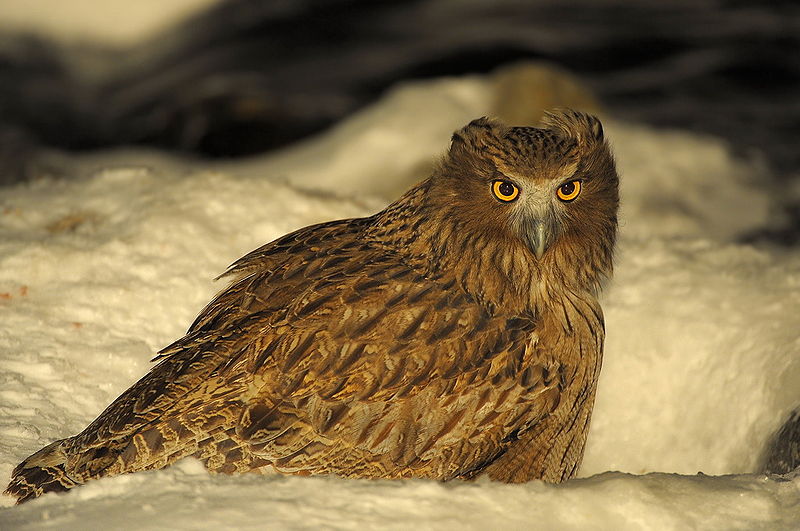 So you like to watch owls in the winter? One of the biggest owls of the world is the Blakiston's Fish-Owl. On Hokkaido there is a feeding station where these guys can be seen up close at night. Best of course is if one can stay at the feeding station itself so one has all night to watch them. The staff will wake you up when they owls arrive in case there is some downtime.
Japanese Crane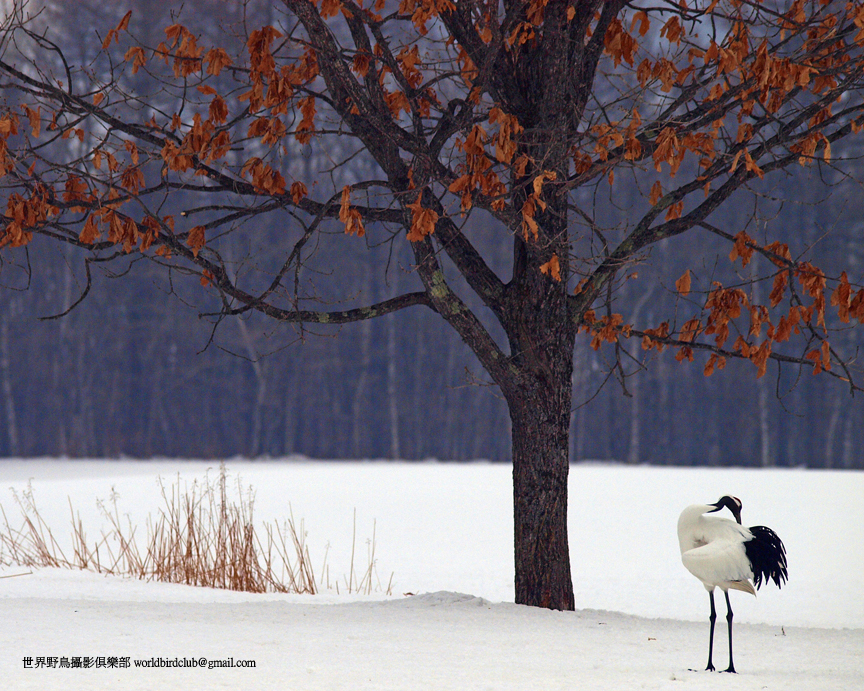 No bird looks as good in the snow as a Japanese Crane, also known as the Red-crowned Crane. It is one of the largest cranes in the world and it is one of the birds most frequently depicted in old Japanese and Chinese art. This crane defines East Asian culture as much as chopsticks!
They dance, call and perform as graciously as a ballet. All of a sudden a White-tailed Eagle swoops by and there is a lot of commotion. Would you not like to experience this?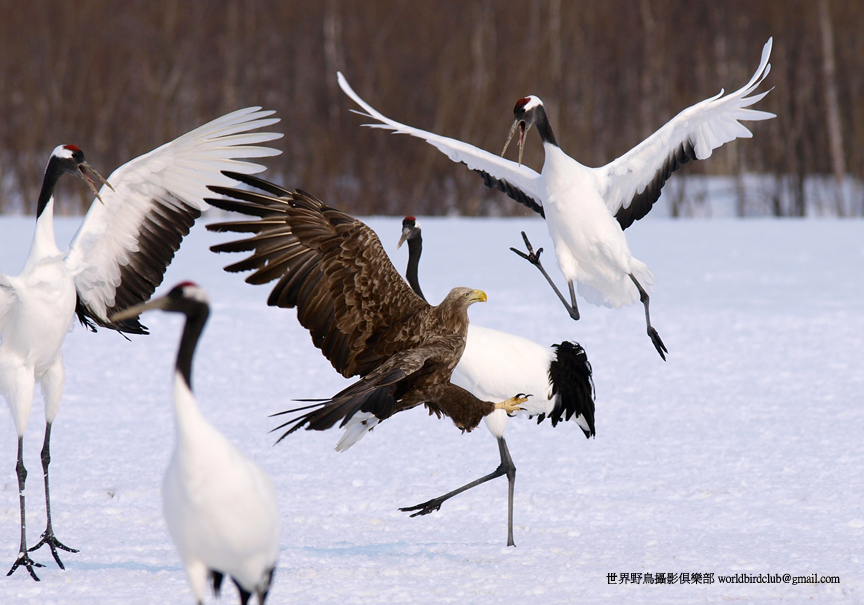 After three-four days on Hokkaido Island, enjoying not only birds, but also the fantastic Japanese cuisine and perhaps also some excellent single malt Hokkaido Whiskey (a perfect copy of the Scottish kind introduced in Hokkaido by a Japanese single malt aficionado), you return to Tokyo.
Snow Monkeys
The next day you may do a day excursion with bullet train to Nangano and Jigokudani to see the famous hot spring bathing Japanese Macaques – known as the Snow Monkeys.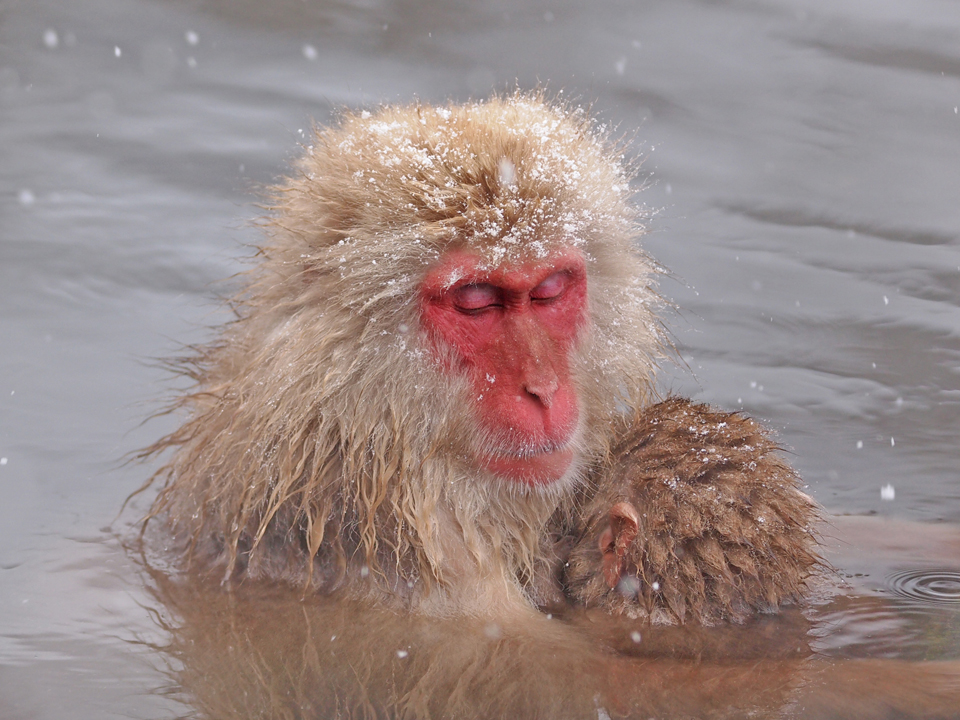 On the next Saturday you shall do some park birding and sightseeing in Tokyo. Then on Sunday fly home. As it is, you will arrive home almost the same time you actually started, either by crossing the date line, or traveling east. Albeit a bit tired from traveling, when you begin work again the following Monday, you will be in a great mood from all the quality nature experiences.  I am sure Winter Japan will have you on a natural high until spring arrives.
DIY or a tour?
Are you convinced yet? Time to start planning. If you think you can deal with obvious language barrier (one may for instance communicate via Google Translate) and navigate on your own, there are plenty of good trip reports online. The best season is January-March, and this is well known. Consequently, it may be a bit late to do it yourself this year, and the most popular places to stay on Hokkaido for birders may be full.
The easiest for anyone, as busy as you are, only being allowed to take five days off, is to let someone else to do the planning for you. Check the large tour operators that do trips around the world and almost everyone has a Winter Japan tour. Then look at the tour length and the price of the fancy tour company and you'll almost fall off your chair.  $7295 for this trip of 12 days!  
That is always the problem! How long can you stay?  How much are you willing to pay?  Very few companies have thought to provide just the essential birding in the winter in Japan, and consequently the tours are too long and too expensive. 

Have a look at Kolibri Expeditions Birding Japan program and let me know if this is not both the time and the cost are exactly what you want.
UPDATE 2019: At the time of the writing there are a few vacancies for our two trips between Feb 19-25, 2017, Feb 15-21, 2018 Feb 24-March 2 and March 3-9, 2019 with possible extensions before or after.
Hurry, hurry! You need to recharge your batteries. You need some of the best winter birding in the world.
What was that? You don't like snow and the winter and you want some warm climate? You do know we had a number of short 5 day birding trips in Peru, right? So it is up to you. Some quality winter birding this winter, or a short birding trip to the tropics? But you do deserve a short holiday before spring!
Oh, and we shall do the Japan trip also in 2020!
All photos ChunHsien Huang 黃俊賢, except Blakiston's Fish-Owl photographed by Robert tdc and with Creative Commons license on Wikipedia. Original here. More of Chun Hsien's photography on https://worldbirdclub.blogspot.mx/
————————————————————————————————————————
Gunnar Engblom
 is a Swedish birder-biologist who lives in Peru since 1998, where he operates birdwatching and nature tours for 
Kolibri Expeditions
. He is popular guide both for hard core birding groups, as well as for groups who combine photography, nature and/or culture. He is also a dedicated 3:04 marathon runner, soon training for Tokyo Marathon in March 3, 2019. And he has a past as sing-songwriting busker in the subway of Stockholm and the punkrock band Guran Guran 25 years ago – and launched a rock'n'roll comeback during 2016!