White-masked Antbird Re-Discovery and Facts.
Discovered in 1937 (Berlioz 1938) the White-masked Antbird (Pithys castaneus) and known only by that single specimen had long been considered a hybrid since no other individuals with the same looks could be found. It was hypothesized that it was a cross between White-plumed Antbird (Pithys albifrons) and an unknown species of Antbird.
This all changed 64 years later, when in 2001 the species was "rediscovered" by an LSU expedition to the Morona River in Loreto department near a community called Arena Blanca. This confirmed it was a good species occurring following ant in patches of white sand forest.  It had simply gone undetected for this long. Since the locality of the type was rather vague somewhere in the Ecuadorian Amazon, and as no individuals have been found in Ecuador since the rediscovery in Peru, it must best be considered a Peruvian endemic.
Despite its rediscovery, very little is known about this "data deficient" new species. It is classified by IUCN/Birdlife Intenrational as near threatened, the population estimated at between 1500-7000 individuals. Current known populations are restricted to small isolated areas in Northern Peru along the lower Rio Morona and nearby Marañon below 300m and seem to be confined to irapayal white sand forest with understory dominated by Lepidocaryum tenue palms (Schmitt et al, in press).
Apart from physical attributes and observed behavior, the biology and life history of the species is poorly understood and nonexistent in some cases. Outside of the so-called "protected areas", little is done to enhance habitat protection or educate the local population regarding the benefits of conservation and the positive impact of ecotourism to local economies.
Birding in San Lorenzo, Northern Peru and what YOU can do to help.
San Lorenzo is a small town (pop. ± 6500) in the Barranca district of Northern Peru. Previously only accessible by boat the area is now reachable by light aircraft. The capital city was established in 2001 and relies heavily on logging, jungle crops and products, and unfortunately the cultivation and sale of illicit products i.e. coca. A French expedition with Fabrice Schmitt, Chris Gouraud, Raphael Sane, Marc Thibaut and others to this area found incredibly the antbird just a few kilometers outside of town.
As so often happens around the world, the poor management of the legal products in the area results in habitat loss and affects all the fauna, not only the endemic White-masked Antbird. The expansion of the local infrastructure results in fractured habitats affecting those species that are highly dependent on specific environments.
Despite the improvements in the area, San Lorenzo is still not easy to get to. A typical trip will involve the following:
A flight from Lima to the jungle city of Tarapoto. This is the easy part. There are two options at this point. The first would be to stay in the Tarapoto area and do some local birding or sightseeing, overnight and then catch the scheduled non-commercial subsidized flight to San Lorenzo the next morning.  Sounds easy? Not so. Local inhabitants have priority on the seats of the plane, so foreign birders would often be stranded. One can not plan a tight birding holiday this way, so unless one charters the aircraft, flying from Tarapoto is not an option.
The second option would be travel by road to Yurimaguas from Tarapota where the regional airport is located that provides flights to San Lorenzo through a small company. Normally the drive should take 2.5 hours. On the positive side, there is excellent birding along the way especially at the ACONABIKH reserve at km 24, where one can observe the endemic Koepcke's Hermit, Gould's Jewelfront and a lek of Golden-headed Manakin. There has frequently also been a Long-tailed Potoo staked out on a day perch. Once can easily spend a couple of hours here while your driver prepares lunch.
When you reach Yurimaguas you will have to overnight there to catch an early morning flight to San Lorenzo.
At this stage it becomes essential that you are prepared well in advance. You must have either a pre-booked and paid for your scheduled or chartered flight from Yurimaguas to San Lorenzo. Whether booking either a schedule or charter you must insist that you are on the earliest possible flight. Even then the travel provider is notoriously unreliable, with local travelers often getting preference over the "tourists". Therefore there are no guarantees.You need to call and make personal visits to the company over and over again.
The air service is provided by SAETA servicios aeros E.I.R.L. See www.saetaperu.com or call:
YURIMAGUAS:
• TEL (065)352614
• Movistar: RPM *297406
• RPC 987599102
SAN LORENZO:
• Movistar: RPM #942977805
• Claro: 965388544 / 954772531
TARAPOTO:
• Movistar: 942880141 / RPM #334396
Because of this, while it is certainly quite possible to reach as an independent birder prepared with time and patience, most people will be better off considering using a recognized and reputable tour provider or guide to assist.
Once in San Lorenzo expect very basic accommodation. One should budget at least a day and a half for birding in the area. This could include a boat trip if you wish. Aside from the White-masked Antbird one should look out for Green-tailed Goldenthroat, White-eared Jacamar, Black Bushbird, Lunulated Antbird, Short-billed Leaftosser, Three-striped Flycatcher, Black-necked Red Cotinga and Western Striped and White-crowned Manakins.
The goals of any birder, especially in a rarely visited region, should include engaging with the locals and highlighting the benefits of ecotourism. The area where it is seen in San Lorenzo has been declared as intended as a reserve, but it is important that more birders and bird photographers visit the area to enforce the incentive to conserve the habitat.The White-masked Antbird is such a rare and little known bird that any observations of behavior or breeding, as well as photographs and video of unrestrained birds, are sure to be well received by both professional ornithologists and the birding community. A fast google search reveals that there are very few photographs of the species in its natural habitat.
So if adventurous birding that helps contribute to science and conservation is something you might enjoy. A trip like this may be something well worth considering. Should you want to come with a professional outfitter some warnings are also in place.
Beware of copycats
When Warren Latham did research for this article he came across that another Peruvian bird tour operator had stolen our complete program and put the exact same text on their website.  It was not only that the itinerary was identical. Every single word of the text was the same, even the part where we rave about our famous field breakfasts and field lunches and my typos and grammatical errors). "At km 34 we shall leave the roadside to bird at ACONABIKH reserve and have enjoy one of Kolibri Expeditions famous field lunches" . (Actually, the ACONABIKH is at km 24.5 – and I have corrected some of my spelling and errors since.).
Here is our White-masked Antbird program.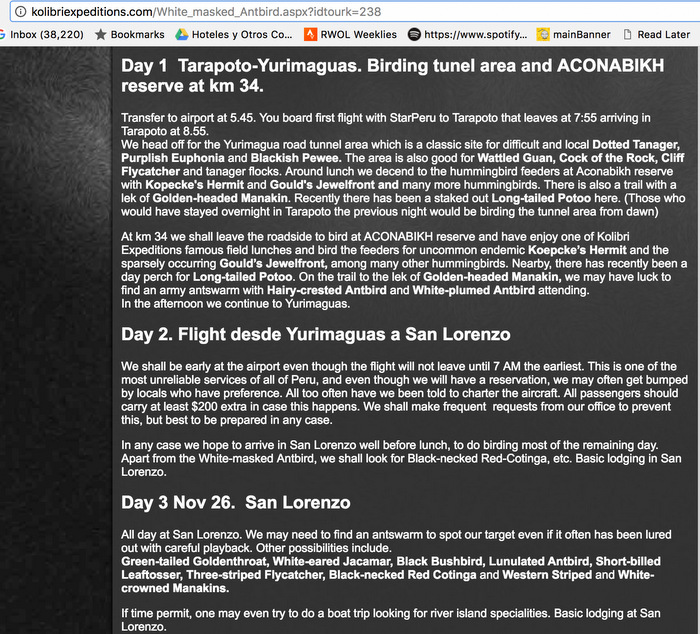 And here is a screenshot of that competitor.
Shockingly bad taste!
But that is not all. The photo of the head of a hand-held White-masked Antbird by Christophe was used without permission, the original water mark was erased and changed to that of the operator.
Should you want to join an organized birding expedition to the White-masked Antbird, we are running this tour regularly. It can be combined with a short 5 day birding tour to Marvelous Spatuletail and Long-whiskered Owlet, as well as a 4 day post trip expedition to Scarlet-banded Barbet and many other good birds.
Photo of handheld White-masked Antbird by Christophe Gouraud used with permission.
————————————————————————————————————————
Gunnar Engblom
 is a Swedish birder who lives in Peru since 1998, where he operates birdwatching and nature tours for 
Kolibri Expeditions
. He is popular guide both for hard core birding groups, as well as for groups who combine photography, nature and/or culture. He is also a dedicated 3:04 marathon runner, soon training for Chicago Marathon in October. And he has a past as sing-songwriting busker in the subway of Stockholm and the punkrock band Guran Guran 25 years ago – and launched a rock'n'roll comeback during 2016!