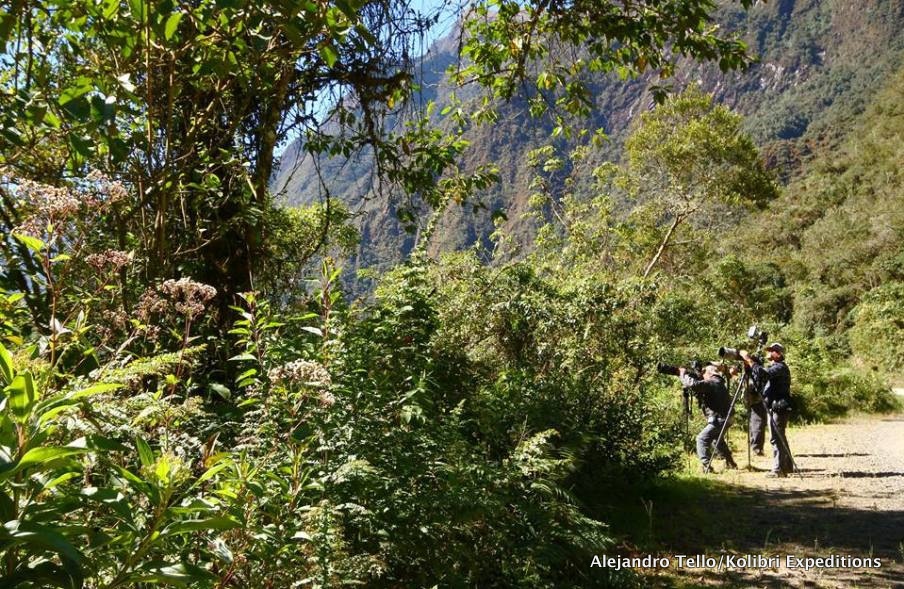 The Birding Trip Just for You Regardless of Your Experience, or Budget
We are not afraid of trying new concepts at Kolibri Expeditions, to give our clients what they deserve. We have introduced ultra-short birding trips of only 5 days for the very busy professional who wants a quick get away to pursue their passion, the casual tourist who is a birding hobbyist and those who are newbies and want to learn about birding.
Tiered pricing and flexible short tours make this possible, affordable and suits your comfort requirements.
Fixed departures as well as customized tours or specific combos with culture or with photography for those that value more than just birding. We are now offering a very bold and unique guarantee for selected trips.  A money back guarantee if you are not 100% satisfied.
This likely leads you to several questions like; The Reason? Why? What tours? Can you really afford to give all money back?
The Reason?
Kolibri Expeditions celebrates 20 years in operation next year.
A "friend" said to me recently: "That this calls for a celebration. You could promote it as 20 years of Chaos!" Although it was a joke, I am the first to admit, that during the first years "chaos" was almost a middle name for our trips.
There was very little plan for details in comfort, but a complete focus only on the birds. Other aspects were not that important. We principally marketed to very hard core birders who wanted long lists of rarely seen birds. In the mind of some birders this image has stuck, even though we long ago abandoned hard core birding as our main business model. Our model now, is more of providing services for all kinds of birders. We are well aware of that birding can be done in many ways and there are many different kinds of birders
Hence, this bold statement to celebrate the evolution of Kolibri over the last 20 years and that what we do now, we do to perfection. Our 20 years in business has shown  us that the client comes first.
Why?
I was reading a book about Unique Selling Propositions and started thinking of marketing ideas how we differ from other operators. Maybe not a whole lot when it comes to looking at birds, the guides and vehicles we use and the birds we see in the end.
Things which make us unique are our tiered pricing, our short 5 days trips, our meals in the field and our conservation ethics, including an active program against plastic waste. But how can we make the birding world know about us and convince potential clients to go with us rather than another company offering similar tours? We needed a good "selling point"!
The other day, I passed a small restaurant in Stockholm, with a sign outside saying "100% satisfied or it is free!" The restaurant was full!
I thought to myself: What could we offer with a similar bold guarantee? It would be hard of course when things that are outside of our control, such as the lodges we use, are a considerable part of the cost of the tour.
Sometimes, we outsource the transport and sometimes we use external guides who are free-lance.  Of course, I am not saying that we don't provide excellent services when we outsource, but that the cost is high. So if Joe Blow is out to screw us for a free trip, it could be very costly for us.  It would never work.
What Tours?
Then it came to me. The tours that we basically control ourselves and where prices of hotels are more modest, such as our two short tours to Central Peru (Satipo road and Carpish-Junin) as well as our day tours from Lima (for which hotels are not included) have less fixed costs that we need to pay for. Could it work to make such a bold statement about these?  I think so!
We are based in Lima and therefore can take care of any issues almost immediately. We have long worked with conservation in Junin, Carpish and Satipo road. They are great areas that we should further explore. These areas get far too little focus, in spite of providing excellent birding, rivaling the famous Manu Road route and generally more birds for your dollars, with good infrastructure and no need for domestic flights.
The Lima tours that are also eligible are the following.
Can you really give all the money back and How does it work?
We will see our commitment to provide 100% satisfaction as a way to get instant feedback from our clients, and a chance to immediately set things right should there be anything that is less than perfect. You will be interviewed, or communicate with us via messenger, email or other services on a daily basis. For any one day we do not manage to fill your expectations of what has been offered you, you have the right to your money back.
Every central Peru 5- day tour or day trip  is included in the 100% satisfaction program will have a "What to expect" section specified.
At the community lodge at Satipo road for instance you will know beforehand that there is, no hot water and that availability of electricity has been unreliable. However, you should expect clean sheets, and clean bathroom facilities, good food, top guiding and more.
The Satipo road lodge will become better and better with time, and we shall upgrade "what to expect" as things improve.
We give no guarantee for seeing a particular bird. We shall do our best to find all targets, but it is not a zoo.
We are looking forward to your feedback about this novelty. Please comment in the comment section below or connect with us through email or on Facebook or Twitter.  And let your birdwatching friends know about Kolibri Expeditions.
—————————————————————————————————
Gunnar Engblom
 is a Swedish birder who lives in Peru since 1998, where he operates birdwatching and nature tours for 
Kolibri Expeditions
. He is popular guide both for hard core birding groups, as well as for groups who combine nature and culture. He is also a dedicated 3:04 marathon runner, right now training for Chicago Marathon on October 8. And he has a relaunched as sing-songwriter with his band
Guran Guran
after 25 years.
Connect with Gunnar on 
LinkedIn
, 
Twitter
 and 
Facebook
.
Head photo: Birders on Satipo road by Alejandro Tello.