Historic Big Month, 20th Anniversary Celebration
Join Kolibri Expeditions 20th Anniversary celebration, with our BIG MONTH this October. This a once in a lifetime and unique birding opportunity where we attempt to see nearly half of all of Peru's 1860 recorded species in one month. From the white sand forests of the Iquitos Amazon Lowlands, the iconic Puerto Maldonado, endemic rich North Peru to the cold, deep waters of the Pacific Humboldt Current, we will cover almost all of Peru's widely diverse ecological zones.
No celebration would be complete without a few special guests. Joining us for this special month will be a few famous personalities from around the birding world. Each of our guests are recognised as some of the most experienced and talented birders in the world and are eager to share with you, their thoughts, experiences and expertise. Each leg is priced individually or you can sign up for the full month. We do have a special discount of $1300 off the regular price of $8800 if you sign up for the full month before August 19th. See below for details or Contact Us for more information and bookings.
Join founder and owner Gunnar Engblom with Trevor Hardaker, Noah Stryker and Diego Calderon for this amazing opportunity.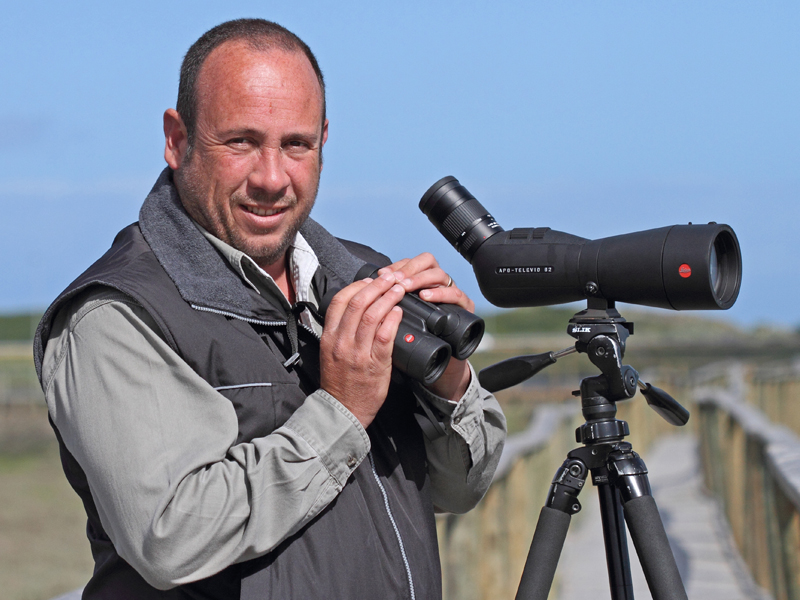 Trevor Hardaker
Growing up in Cape Town, South Africa, Trevor has been birding since he was a young boy. At the moment, he has the second highest list of all birders in Southern Africa with a total of 927 species out of a possible 976 species ever recorded in the region. He currently serves as the chairman of the South African Rarities Committee and is also a member of the South African List Committee too. He also owns and runs the SA Rare Bird News email alert service and, together with a close friend, runs Zest for Birds, a company that operates pelagic trips in the Cape. Trevor is an avid supporter of BirdLife South Africa, a bird conservation NGO, and has served on their council and board of management in the past as well as being involved with raising substantial funds for their various conservation projects.
Trevor also loves to travel and has been fortunate enough to bird on all 7 continents so far. Over the years, he has participated in the World Birding Rally in Peru, the Champions of the Flyway bird race in Israel and the World Series of Birding in the USA but his real passion is getting to visit new areas that he has not been to before and enjoying the new experiences (and, obviously, birds!) on offer there. He is really looking forward to being able to celebrate Kolibri Expedition's 20th anniversary with them and getting to share some incredible birds with like-minded people along the way as well.
He says that the biggest problem in his life is actually not a bad one to have - "so many birds to see and so little time to try and see them all in!"
Parts 1, 2 and 3 of BIG MONTH
27th September to 1st October. Trevor and Gunnar kick off Big Month with a trip to Puerto Maldonado and surrounds. The area shows a record of approximately 600 species and is the ideal introduction to the event, with the first 4 days serving as prep time to shoot for over 300 species on day 5 of the tour.
We start in the grasslands and savannah near the town looking for these habitat specialties: Small–billed Tinamou, Brazilian Teal, White-faced Whistling-Duck, Zigzag Heron, Southern Lapwing, Black-banded and Grey-breasted Crakes, Lesser Yellow-headed Vulture among others.
Day 2 sees us move to Saona Lodge and a chance to seePeruvian Recurvebill, Rufous-headed Woodpecker, Great Potoo and Pale-winged Trumpeters.
There is a great trail system that should yield Amazonian Pygmy-Owl, Undulated Antshrike, Cream-colored Woodpecker and the rare Yellow-shouldered Grosbeak.
Moving on the Tres Chimbadas Lake we look for: Unicolored Blackbird (a new addition to the Peruvian list), also Hoatzin, Green Ibis, Striated Heron, Sungrebe and Capped Heron. For some diversion there is a resident colony of giant otters at the lake. We return to Saona Lodge to the trail system and an early night to prep for tomorrow's big day.
October 1st, the Big Day. At 00:00hrs we return to the savannah and wetlands at Puerto Maldonado, followed by night birding at the Lodge. The morning is spent at Tres Chimbadas and birding the Tambopata river back towards Puerto Maldonado for the 13:55 hr. flight to Cusco to continue with part 2.
Trevor, Gunnar and guests continue with the Big Day in the Cusco area, going to Lake Huacarpay straight from the airport. Hopefully picking up another 30 or so species including Bearded Mountaineer.
That afternoon and evening the group travels over the highlands to Wayqecha birding along the way looking for at least 40 more species. Big Day ends but the fun continues.
The following morning we travel to Guadalupe Lodge via Cock-of-the-Rock Lodge Hooded Mountain-Tanager, Masked Flowerpiercer, Scarlet-bellied Mountain-Tanager, Streaked Tuftedcheek, Pearled Treerunner being some of the many targets.
The morning at Guadalupe is spent on a fantastic bamboo trail that contains specialties such as White-cheeked Tody-Tyrant, Large-headed Flatbill and Bamboo Foliagegleaner. Certainly many bamboo birds that are absent at Saona Lodge on the Puerto Maldonado section can be found here. In the garden Buff-tailed Sicklebill is a frequent guest. We continue to the Pilcopata-Atalaya ridge and look for Blue-headed Macaw and foothill species such as Red-billed Tyrannulet, Fine-barred Piculet, Rufous-fronted Plushcrown and Yellow-billed Nunbird. The Cock-of-the Rock Lodge is known for its hummingbirds and we should see plenty.
The next day we drive from the lodge to the ancient Inca town of Ollantaytambo birding on the way continuing to add to our list.
This will possibly be one of the most productive days with unique birds. Abra Malaga is the site of more than a hand full of good birds of the Polylepis woodland on the ridge, such as the ultra-rare Royal Cinclodes. AlsoWhite-browed Tit-Spinetail, Tawny Tit-Spinetail, Ash-breasted Tit-Tyrant, Puna Tapaculo, Stripe-headed Antpitta, Tit-like Dacnis, Andean Snipe, Red-rumped Bush-Tyrant, Line-fronted Canastero and perhaps Andean Condor can also be seen.
October 6th we continue birding on the Salkantay Road, towards Cusco for the afternoon flight to Lima and the end of Big Month part 2. Those who are continuing with Big Month part 3 will travel to Paracas for the Pelagic and a final day with Trevor and the start of Noah's time with us.
Noah Strycker
Born in 1986, Noah has been birding pretty much since he started walking. Graduating magna cum lauda in 2008 from Oregon State with a degree in fisheries and wildlife, Noah has worked tirelessly as a conservationist and prolific author.
In 2011 he hiked the Pacific Trail from Mexico to Canada, setting the stage for a remarkable feat. In 2015 he achieved what many thought was impossible. Seeing over 5000 bird species in a year. His final total was 6042. While his big year record has been broken, he set the bar for big year birding. With his ability to see the most number of birds in the shortest amount of time will be a huge asset to those joining us with him for parts 3-6 of Big Month. If you have read his excellent book Birding Without Borders you will know that Peru is the place to vastly increase your life list.
Parts 3, 4, 5 & 6
Trevor finishes his leg of the Big Month with Gunnar on our pelagic tour from Paracas, south of Lima. The Humboldt Current is a nutrient rich feeding ground for pelagic bird species of all descriptions. A 5am start should put us in the right place to see a lot of lifers. Trevor is a sea bird specialist and will be a huge asset in picking out the gems, such as: Wedge-rumped Storm-Petrels, Swallow-tailed and Sabine´s Gulls, Waved, Grey-headed, Black-browed and Salvin´s Albatross, Peruvian Diving-Petrel, Chilean and South Polar Skuas.
Back to Lima to collect Noah we fly that evening to Tumbes in the north and cross the border to Huaquillas in Ecuador.
October 8th and 9th we bird the various habitats around Tumbes, including: Cotrina, Campo Verde, Cuacho and the Tumbes Mangroves. For a list of the specials, click on the itinerary button below.
October 10th, in the morning we do the warm water pelagic, before travelling to Piura in the afternoon to drop off those returning home and picking up our guests for the next leg.
Leaving straight from Piura at 4 pm. We drive to Hauncabamba, spending the night before birding the Chinguela Ridge the following morning for the rare Bearded Guan and Red-faced Parrot among other specialties.
October 12th we bird above Chanchaque moving towards Olmos, looking for the region's best, including: Grey-headed Antbird and Piura Hemispingus. Also for Black-cowled Saltator and Chapman's Antshrike. We spend the nightin Olmos.
Continuing through the Porculla Pass to Jaen we look for among others, Marañon Screech-Owl. We spend the night in Bagua.
From Bagua we continue on to Cajamarca via Laimabamba. The next 3 days We bird the Andes, looking for among others: rey-bellied Comet, White-winged Cinclodes, the Cajamarca race of Pileated Tit-Spinetail and Unicolored Tapaculo before driving back towards Celendin with Plain-tailed Warbling-Finch, Rufous-eared Brush-Finch, as well as White-tailed Shrike-Tyrant.
October 16th we are in Pomacochas we should see the iconic humming birds of the region: Marvelous Spatuletail, Andean Emerald, Little Woodstar, Bronzy Inca.
The following day we bird the famous Abra Patricia area where there are a ton of specialties including the much sought after Long-whiskered Owlet.
Moving on towards Tarapoto via Agaus Verdes and Moyabamba we should pick up the other nocturnal species: Band-bellied Owl, Black-and-White Owl, Stygian Owl, Blackish, Spot-tailed and Rufous Nightjars.
October 19th is the last day of this, the 4th leg of Big Month. After the night in Tarapoto we bird in the surrounds as well as the famous Tunnel area. In the afternoon we bid farewell to those returning and pick up the participants for Leg 5 with Gunnar and Noah to Bella Vista and Plataforma for The endangered Scarlet-banded Barbet and newly described Cordillera Azul Antbird and un-described species of Woodcreeper.
19th to the 21st October, we are at Plataforma in Scarlet-banded Barbet, and [newly described] Cordillera Azul Antbird country. We also hope to see the yet un-described Woodcreeper. The area of Plataforma is under serious threat from logging and other unsustainable commercialization and this is a good opportunity for us to showcase how birding and ecotourism is a viable alternative, to the current destructive practices.
This 4 day leg of Big Month 21st-24th October, we fly with Noah and Gunnar to the old jungle city Iquitos, for classic Amazon Rainforest birding. Meeting up with some from the Tarapoto group will be our guests flying in from Lima.
We travel directly to Allpahuayo-Mishana Reserve to look fo rWhite-winged and Rufous Potoos. The next morning we continue at the reserve birding for among others:Allpahuayo Antbird, Ancient Antwren, Brown-banded Puffbird, Zimmer's Antbird, Mishana Tyrannuletand an as yet undescribed form of Fuscous Flycatcher. We continue on to Explornapo in the afternoon, covering some of the islands on the way.
The 23rd we continue with the islands at Explornapo and the canopy walkway adding: Dugand's Antwren, Pavonine Quetzal and Crested Eagle.
The next morning we will look for missed species and make our way back to Iquitos for the late flight back to Lima and the end of Part 6. We also say goodbye to Noah after this leg, and Welcome Diego Calderon as our guest host for Part 7.
Diego Calderon
Diego must be considered one of the leading guides in Central and South America; such is his expertise that he is now being invited to lead tours worldwide.
A graduate in biology from the Universidad de Antioquia, his studies have included the courtship displays and behaviour of manakins, natural history studies of migratory birds, and the systematics and relationships of Galloanserae.
A born explorer and naturally curious, Diego has travelled to some of the most remote and forbidding areas of Colombia including the almost inaccessible Pirre Mountains, both lowlands and highlands in Putumayo, several sites in the Andes including the Perijá Mountains, and the Guianese Colombian Amazon in Mitú contributing to the discovery of previously unrecorded species in the country. He was also involved in the description of the new and endangered Antioquia Wren, and nowadays he is also describing another super charismatic new Colombian endemic species for science (stay tuned). He was also one of the first photographing and sound-recording the enigmatic Blue–bearded Helmetcrest and the Santa Marta Wren after a week-long picturesque mountain trek.
As a tour guide, Diego is a fountain of knowledge and has an infectious passion for birds and nature in general, with an added passion for digiscoping and wild orchids. Diego is going to be a huge asset for the last and difficult Central Peru Leg. You can follow Diego on Instagram @diegocolombiabirding.
October 24th – October 30th. The demanding pace does not let up. Those who are doing this leg need to be at domestic arrivals at Jorge Chavez International to meet with the Iquitos group continuing with an overnight drive to the Andamarca Valley.
The morning there is no let up and we look for several species that are undescribed or soon may be split. They are: Black-spectacled Brush-Finch, a new Thryothorus wren known as "Mantaro Wren" and a new undescribed species of Thornbird known as "Mantaro Thornbird" also, the form of Azara's Spinetail whose calls are completely different here and may well warrant species status. Of course they are a few among many species unique to central Peru. The afternoon we move towards the much under-appreciated Satipo Road and the Calabaza Colibri Lodge for the evening. The lodge is a community initiative and is important to the development of ecotourism.
The next morning we bird Satipo Road, rivalling Manu Road for the diversity and an excellent alternative for adding to your list. Look for: Sunbittern, Peruvian Tyrannulet, Cinnamon-faced Tyrannulet, Versicolored Barbet, Solitary Eagle, Black-and-Chestnut Eagle, Golden-headed and Crested Quetazal, Andean Cock-of-the-Rock, Torrent Duck, Deep-blue Flowerpiercer.
We spend the night in La Merced and bird the area the next day with our chief target being, Cloud-forest Screech-Owl. We may spend the night in La Merced or if time permits continue to Oxapampa.
October 28th is a travel day to Huanuco, with an important stop at Lake Junin to look for the critically endangered Junin Grebe and Junin Rail. As usual there will be lots of other unique species on the road to Huanuco.
The next morning we are up and leaving at 3:00am.
The last 2 days takes us through Unchog, La Oroya and San Mateo to the Santa Eulalia Canyon for a variety of Western Slope specialties including Swallow-tailed Nightjar, Andean Snipe, Golden-backed Mountain-Tanager, Pardusco, Rufous-browed Hemispingus and Bay-vented Cotinga that even quite rare are very conspicuous when perched. Others include White-bellied Cinclodes, Diademed Plover, Puna Snipe, Rufous-bellied and Gray-breasted Seedsnipes, Olivaceous Thornbill and White-winged Diuca-Finch.
That evening we are back in Lima, and for the diehards one last day as we travel directly to Arequipa for a last look for southern Andean endemics.